(Morgantown, W.Va.) Monongalia County Magistrate Ron Bane has released the 2021 Third Quarter Court Card that recaps case touchpoints his office had in the last 90 days.
The total number of cases increased by more than four percent driven by a significant 33% increase in misdemeanors. Other categories were down, most notably 44% fewer civil cases from the previous quarter. When asked about the increase in misdemeanors, Bane attributed the large number to scheduling rather than any specific season or event, "This past quarter was a time when the normal rotation of on-call judges and personal vacation resulted in me being on the bench less than usual."
In other recent court news, Judge Bane was appointed to the Community Criminal Justice Board for the Monongalia County Day Report Center. He'll represent magistrate court interests as one of three ex-officio members.
In discussing the appointment Bane indicated, "A well-functioning probation program is a critical component of a justice system that cares: for offenders as individuals, as well as citizens of our community. As magistrate, I know when the program is performing well because I see fewer related cases. I look forward to working with other community partners to actively support the work of the Monongalia County Day Report Center."
In the most recent quarter, Bane noted how his website (available at RonBane.com) had been expanded to feature a new page. "In response to public web search queries, a new webpage was published about Getting to Court, said Bane." He added, "The page currently features transportation and parking information when visiting the Monongalia County Justice Center, as well as some statistics of interest, like the number of parking spots in the immediate vicinity."
"Transportation options to get to court improved starting August 16 with the addition of the new Don Knotts Route 50 offered by Mountain Line," Bane noted. The line serves the Scott Avenue where Hazel's House of Hope is being developed, and circles around the Justice Center stopping in the rear of the building on Chestnut Street.
Bane, who serves as a board member of the transit authority added, "Based on correspondence from Mountain Line CEO David Bruffy, my understanding is ridership on Route 50 has increased by 29%, largely fueled by adding Sunday service, which has seen a 200% increase in ridership."
In late August, Bane was honored to host retired teacher and local artist, Michael Green, where he received a personalized work of art. The decoupage incorporates Monongalia County Courthouse renovation plans and features images of the historic, picturesque courthouse, downtown Morgantown, and crime and justice.
In talking about the artwork, Bane recalled the influence Green has had on our community, "Mr. Green inspired an appreciation of art with my children when they attended Morgantown High School, and his work will inspire guests who visit my office in the years to come."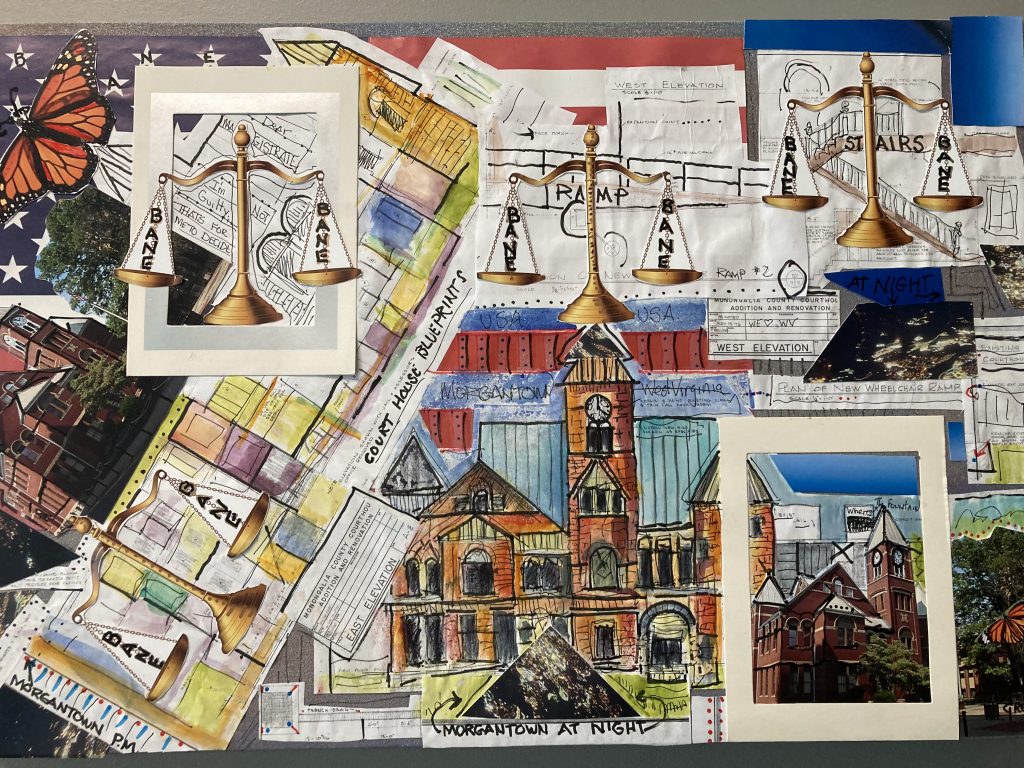 Quarterly Court Card
The quarterly court card reflects Monongalia County Division 1 Magistrate Court Data only, and doesn't reflect cases in progress or other factors. Information provided herein is for educational purposes only, and should not be construed as official.